Industrial X-Ray inspection solution
INSPEX IN is based on the combination of an X-ray source, a detector, an automated system to angle the controlled product correctly, image processing software, and algorithms adapted to the required control points.
Radioprotection is ensured by lead body parts.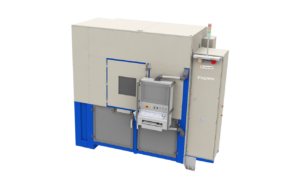 Applications
INSPEX IN is well-suited for the inspection of assembled products, that can't be opened without damage.
It is especially relevant to multi-material systems or sub-systems for aerospace, automobile, watchmaking, electronics, medical devices, or home automation systems.
Why is it unique?
NON-DESTRUCTIVE AND VERSATILE INSPECTION

– Incorrect assembly (absence or wrong position of screws, connectors, etc), material failure (cracks, etc), dimensions, foreign bodies – On pre-assembled and complex systems

CONTROL SAFETY

with protection devices against radiation , even during the control cycle

AUTOMATION OPTIONS

loading and unloading of parts, camera angles, sorting and marking, etc
Documentation
Case studies
Specifications
Request a quote for Inspex IN
Access all SETSMART Resources
Benefit from case studies, brochures and videos of our solutions in operation.