Metrix ID
For controlling internal diameters of apertures and internal diameters and shape defects of bores.

For the Most Demanding Inner Diameter Control
METRIX ID controls the internal diameter of many kinds of parts with micrometer level accuracy.
It employs pneumatic sensors that guarantee fast, contactless measurement.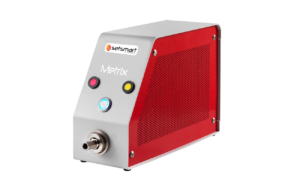 Applications
METRIX ID controls any kind of bores (e.g. bearings, gears, bone replacement parts), nozzles (e.g. sprays, waterjet), or tubes (engine cylinders, gun barrels).
Why is it unique ?
ACCURATE AND PRECISE DIAMETER MEASUREMENTS

down to micrometer level or better, with low R&R gage.

VERSATILE MEASUREMENT

Adaptable to a large range of diameters, control depths, and part shapes. One base unit can be connected to various sensors for multiple measurements.

FAST AND EASY CONTROL

quick testing (within seconds), independent of the operator's skills.

MADE-TO-MEASURE ANYWHERE

Installation is possible in any work environment
Request a quote for Metrix ID
Access all SETSMART Resources
Benefit from case studies, brochures and videos of our solutions in operation.