FLOWMETER TECHNOLOGY APPLIED TO APERTURE MEASUREMENTS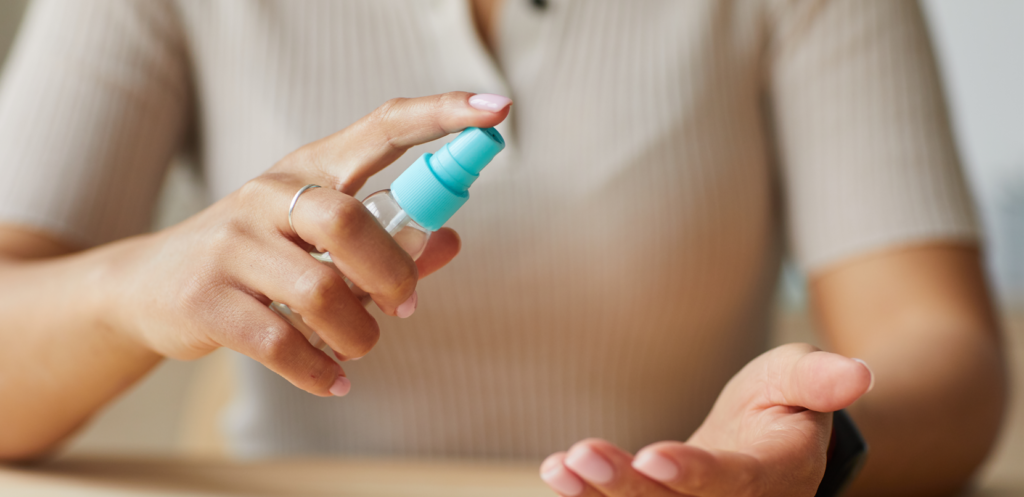 Spray actuators control needs to be precise and repeatable to ensure an effective user experience.
Spray nozzles – or actuators – have a small aperture that is difficult to make with precision – a key point as it's diameter is a critical parameter for the spray's operation.
Reliable and accurate control of this aperture can ensure product quality and customer satisfaction.
Control speed and simplicity must fit to the requirements of large-scale production for different kind of actuators :
cosmetics, pharmaceuticals, industrial sprays
dosing pump
flow rate & hole control
OUR SOLUTIONS
Thanks to our pneumatic principle and adapted to spray nozzles, METRIX ID and METRIX ONE make easy the control of any diameters. They allow :
• The control of the internal diameter of apertures and the detection of potential obstructions
• With a very good gage R&R and a measurement uncertainty ranging between +/-10 and +/-150 µm, depending on the measured diameter and on the necessary calibrant's dimension uncertainty.
YOUR BENEFITS
Quality and user experience ensured
• By the accurate and precise control of the aperture's internal diameter and absence of obstruction
Compliant with large scale production needs
• Control within seconds
• The solution is easy to use by non-specialists
• Control data are traceable thanks to software
METRIX ONE & METRIX ID have a long and successful history of actuator control
–
Our air flow comparators method
The flowmeter mode applied to aperture measurements with METRIX ONE or METRIX ID versions for sprays converts the controlled aperture size into a height of liquid, read on a graduated ruler (METRIX ONE) or using software (METRIX ID).
The principle of the pneumatic flowmeter is based on the direct reading of the drop or rise in pressure resulting from the flow of an orifice or a leak.
The regulator ensures a rigorously constant pressure. The air passes through the head nozzle and exits through the orifice suitable for the part to be checked. The variation in the dimension of the part measured causes variations in pressure between the head nozzle and the orifice, recorded by the pressure gauge of the device.
Pneumatic metrology is a dimensional measurement technique for actuators with two important advantages:
high measurement accuracy
no contact with the part
This technology is used for the dimensional monitoring of parts with apertures whose dimensions need to be within very tight tolerances. Some of these parts cannot be touched because of their surface treatments, of their complex geometry, or fragility.
For a number of years, in this way this instrumentation has been used in industrial sectors such as cosmetics (sprays) and pharmaceuticals (dosage pumps). It is recognised for its durability, reliability and its very high measuring accuracy.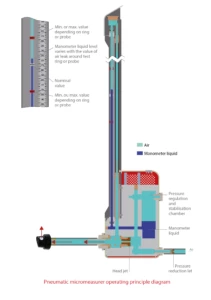 More questions? Let's talk !